Full Service Facility including:
-9 aircraft
-two full-service hangars
-storage facility
-utility vehicles
-specialty mining and fire fighting equipment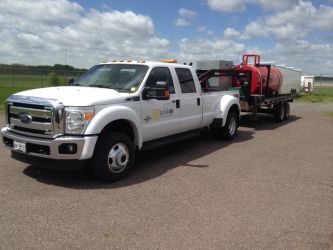 Fire Suppressant Equipment
Bambi Firesock
The Firesock, when attached to the bottom of a Bambi Bucket, makes the bucket a more effective tool by providing dramatically improved coverage and suppression capabilities.
Sacksafoam I
The Sacksafoam I injection system transfers and dispenses aerial firefighting foam and is specially designed to be utilized with the standard Bambi Bucket.
PowerFill Snorkel
PowerFill technology allows users to fill their aerial firefighting buckets in shallow water sources where dry summer conditions limit dip site possibilities. Only 18 inches (46 cm) of water is required to pull water from the bottom up. Conventional dipping methods may also still be used when the PowerFill is installed.
Long line and short line
Wisk-Air helicopters come equipped with long lines in varying lengths.
Bambi Max
Our Bambi max bucket has a 350-gallon capacity. The 412BLR can fly 1.5 hrs with the Bambi Max at full capacity.
Heli Torch
Wisk Air offers its own heli torch aerial ignition services ideal for slash pile burning at remote sites and prescribed Burns. It offers maximum coverage and our crews are fully cross certified in torch and suppression.
Floats
We are one of the few operators in the region with floats that are available for our Bell 206 Long Rangers.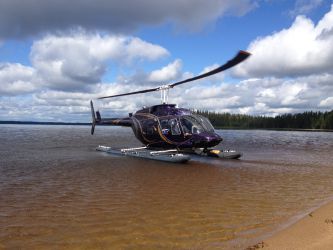 Powerline and Mining Equipment
Heli Claw
Cement bucket
External basket
Full complement of sling gear for all possible sling scenarios
Long Lines ranging in lengths up to 200 feet