With over 30 years experience providing exploration and mining support, our pilots are recognized in our field as long line specialists.
We continue to be highly sought after to support mining companies in a variety of locations across Canada including the Arctic Circle, "Ring of Fire" and Northern Ontario's James Bay Lowlands.

Some of our work includes enivronmental assessements on Right of Ways, as well as material and crew delivery and logistics. We also offer remote mine site reclaimation support.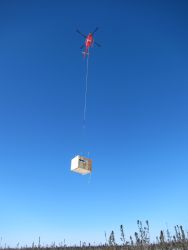 Our Bell 407s are super well-suited for drill moves. It has a lifting capacity of over 2600 lbs and cruise speed of 160 mph, outperforming the AStar B2 in both lift capacity and fuel savings and higher seating capacity.