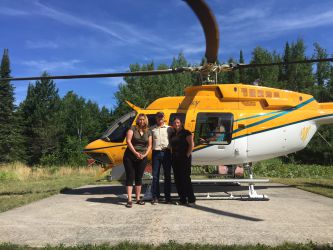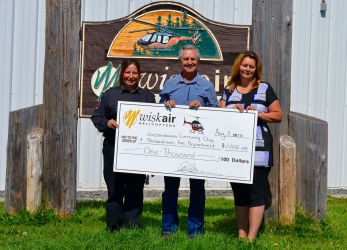 Thunder Bay, Tuesday August 2, 2016 - Wisk Air Helicopters made a $4,500 in-kind doantion to the community of Shebandowan and $1000 cash donation to Shebandowan Fire Department and Shebadowan Lake Community Club.
Funds were raised during a successful day of helicopter rides at Shebandowan on Saturday July 30, 2016. Rides were in such high demand that Wisk Air added an additional 2.5 hours of flying onto the event.
"We were pleasandtly surprised by the overwhelmning response to the helicopter rides," says Mark Wiskemann, President of Wisk Air Helicopters. "People were excited to see their camps from the air, and we couldn't have asked for a warmer welcome from the community for Shebandowan."
The fire department also received two private donations totaling $660 dollars. Proceeds to the fire department are earmarked for the purchase of a new radio systme for their new wildfire truck that will service the community of Shebandowan. Half of the funds will also go to the Shebandowan Lake Community Club.
"We had a great time, fun was had by all and we really appreciate the support - it will go a long way toward helping us get that truck," says Tracey Johnson, Chief of the Shebandowan Fire Department.
"Our community club lives off of donations," says Lyna Pajamaki-Qualie, President of the Community Centre. "It's great that we were included and it will help us continue to offer programs including visits by the NorWest Health Centre."
Due ot high demand for this event, Wisk Air Helicopters hopes to offer rides to the community of Shebandowan again next summer.
About Wisk Air (wiskair.com):
Wisk Air Helicopters provides sightseeing fights throughout the year to the City of Thunder Bay and area. The company prides itself on respect, transparency and prosperity for the companies and communities it serves. Wisk Air currently has a fleet of seven medium and intermediate helicopters. It has been supplying helicopter services to businesses and clients in the Northwest for 35 years.
Contact information:
Mark Wiskemann, President
807-475-4510 email: info@wiskair.com
Kim Latimer, Communications
807-621-4303